EACH PURCHASE INDIVIDUALLY WRAPPED WITH FREE STANDARD SHIPPING WITHIN CONTINENTAL US.
Please contact for out of country purchases.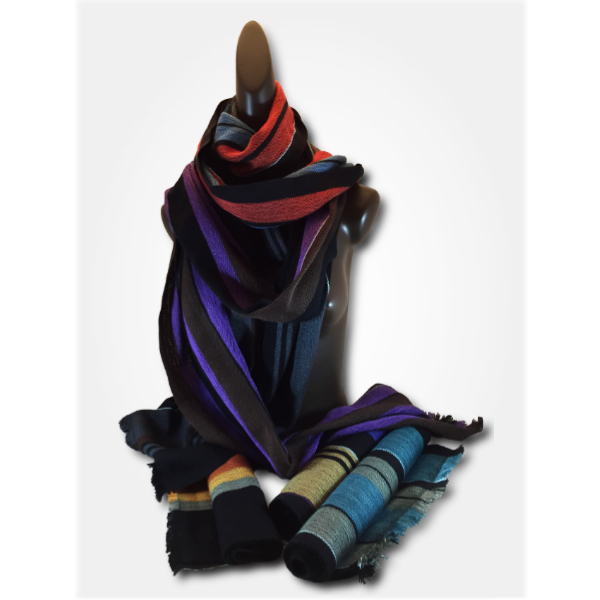 These remaining scarves are all handwoven, hand-dyed silk. I used three different patterns—Tabby, a basic weave form, Twill, a bit more complicated, and a combination of both weaves—T&T. Each has one turquoise thread somewhere in the warp. Woven on a floor loom, they create a prism of color and design. And because they are 100% silk, they breathe, keep you warm in a chill and cool against a summer breeze. They are feather weight and supple, sensuously drape around your neck and make a bold statement about quality. They complement almost any wardrobe. An eye-lash fringe for both men and women.  Please hand wash separately; machine or line dry. May be ironed. Originally woven in a limited edition of two, these are the remaining scarves in my collection.
TO SHOP:
Tabby – lightest of the three weaves; approximately 12″ x 80″
Originally $100; on sale $50
Twill – a bit wider, a bit shorter; approximately 13″ x 70″
Originally $115; on sale $58
T & T – exciting combination weave; approximately 13″ x 80″
Originally $125; on sale $63
Pastels – woven using hand-dyed pastel silk fibers only; approximately 12″ x 80″
Originally $125; on sale $63 
Remaining neckwear pieces were created from one of the three different weave patterns—Tabby, Twill, and T&T. They are triple layered 100% silk with either a 2″ fringe or loops. Lengths are from end to end (not including the fringe or loops). Buttons are handcrafted in maple or walnut. Inventory limited to what is displayed.
To find the right fit:
For a straight neck fit, measure around your neck loosely. Add approximately 5″. 
For draping effect, Add approximately 7″. One or two buttons.
TO SHOP:
Neckwear – Originally $55; on sale for $25.